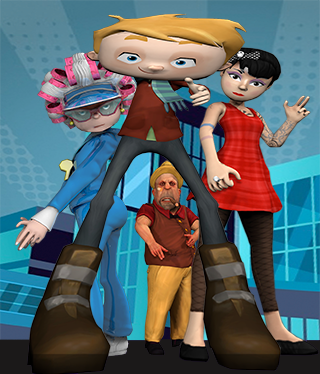 The notorious Ratzoffski Family
After Dark Story
Hartmut has been released, after a detention in a juvenile reformatory for fraud and resistance to power.
Because of the accompanying contact ban he does not know where his homies are. The city where the Ratzkowskis are living in is dominated by windy profiteers and tricky characters who dominate the streets and take over whole districts. No only for this reason everything can changing there. What exists today is tomorrow gone. The truth of today are the lies of yesterday. Clearly noticeable is the he invisible power of an apparently devouring greed which seems to eat all.
Again and again the Ratzoffski`s encounter resistance and barriers in their search of a future.
Only chances and the power of will to change give you a rendezvous with happiness.